LEGO Parts
B. Lego Technic Parts, beams E. H. O. R. U. X. LV. LX. LT.
C. Lego plates / flats, red, blue, white, yellow, green, white, grey G. J. K. W. Q. LL. LE. LN. T.
L. Misc. Coloured Bricks & Flats; Brown, Cream, Pink, Beige, Curry, Buff, Tan LM. LH. LA. LB. LC.
M. Minifigure Accessories- Hair, headwear BEA. BEB. BEC. BED. BEE. BEF. BEG. BEH. BEJ. BEK.
N. Lego Bricks, black, red, yellow, grey, blue, white D. P. I. S. F. V. BK. LR. LS. LQ. BP. BQ. #D.
Z. Gears / Cogs, Pulley Wheels, Axles / shafts / rods, Wheels, string, tyres and hubs. AB. A. BD.
AD. Connectors, Bushes, tracks, chains, rubber bands CA. AA.
AF. Pneumatics, tube, pipe, suspension, springs, pumps, actuators, switches, 'T's
AG. Engine Parts, Motors, Electrical, lights, switches, sensors, cables, pull-back motors, sirens.
AJ. Star Wars Theme AJ2, AJ3, AJ4, AJ5, RX.
AK. Harry Potter Minifigures, Lone Ranger, Galaxy Squad, Alien Conquest, Studio's, Movie, Belville
AM. Lego Toy Story, Atlantis, Ninjago, Spongebob BM2. XA. BJ.
AP. Vehicle Parts, plane, helicopter, aircraft, aeroplane parts AQ. AQA. AQB. AQC. AQD. AQE. AQG.
AR. Minifigures pg1, Mars Mission, Fabuland, Jack Stone, Technic & Family ATA. ARA. CX. CY. DA. CVQ.
AU. Train Parts, boats and ship, Sport/Football, Castle/building parts, AS. AH. AL.
AV. Lego base boards, thin, thick & 3D. Manuals, instructions, flyers, inserts . AV2. BF.
AW. Parts with printed surfaces/decals AWA. AWB. CB. CC. CD. CE. CEA. CF. CG. CGA. CH. CHA.
AX. Trees, Plants, Road Signs, Lamp post, vintage flags, clip signs AXD.
AY. Doors, Windows, Shutters, Grilles, Fences, Gates, BC2. RR. RS. RQ. RR2. RT. RU.
BA. Clear / Translucent Lego, QA. QB. QC. QD. QE. QF. QG.
BB. Misc. Lego, gates, fence panels, fridge magnets, BC. BC2. GVK.
BCA. Structural, Girders, Beams, Supports, Stairs, Ladders, BCB.
LK. Lego Animals, Birds & Dinosaurs, Minifigure capes / cloaks page. MA.
VE. Antenna, Aerials, Fairings, Duplo, Satalite / radar dishes VJ. SA. SAA. VC.
CV. Lego Power Miners, Lego Simpsons, Lego Fabuland, Legends of Chima CVA. CVB. CVP.
BJE. Pirates of the Caribbean, Avengers, Lord of the Rings, Indiana Jones, BJH. BH2. BJ3.
DC. Lego Minifigure series
BJU. Lego Superheroes, Batman, Monster Fighters, Series, olympics, BJK. DC. KP.
KN. Lego Knights Kingdom, Castle Fantasy Era, Pharaoh's Quest, CVG. CVM.
Terms & Conditions, About Us and frequently asked questions.
RA. Lego Bionicle parts, Gold & Silver Lego parts page 1, RB. RC. RD. RE. RF. LF.
#ME. Complete Lego sets 2
ME. Complete Lego sets, buy Lego by the Kilo, Lego spares packs SS. ST.
Spareblocks News, Leave or read feedback / comments, completed projects.
Q2. Harry Potter Green Parts
Sell your unwanted Lego
DG. Pneumatic tubing
CVQ. Lego Mars Mission

The Photo's and review presented below were kindly provided by Ben (Northants, UK), our December 2012 first place competition winner.

Starwars Millennium Falcon Review (Lego Set 7965)

This is one of my all-time favourite Lego sets and I have wanted it since it came out last year. It has a sturdy build and has no real fragile bits and is easy to pick up and play with. It is also quite light and easy to handle for its size. The space inside is quite large and there is a lot of room to play with the mini figures (which are greatly detailed). The computer station is my favourite part of the interior and as the computer pieces are printed bricks they will last longer. Overall this is an amazing set and well worth the price.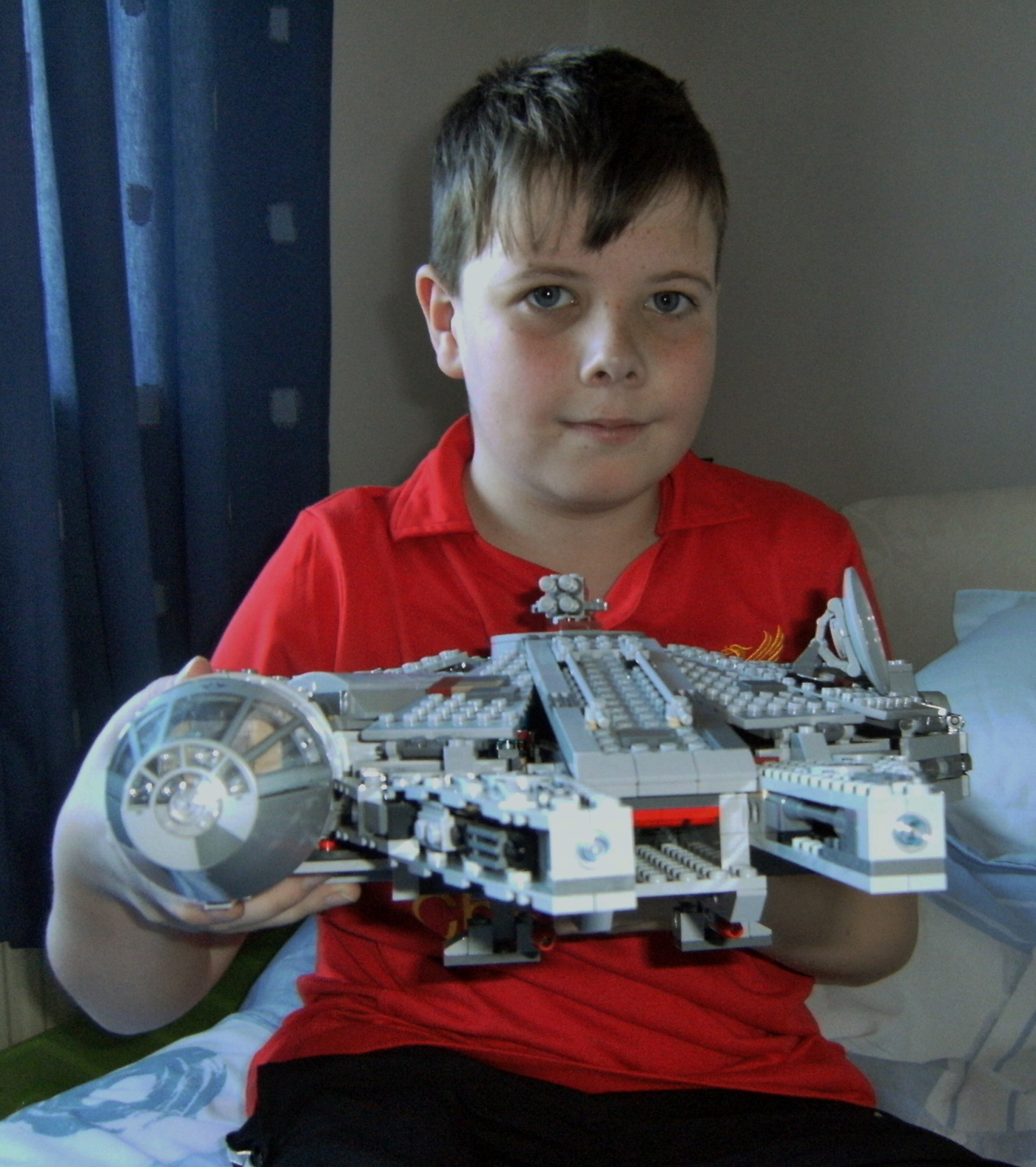 Summary

Pros:

Strong construction. Mini figures are greatly detailed. Includes new Darth Vader figure. Opens up to play with. Cool Weapons including the new crossbow colour Authentic top and bottom cannons on the Falcon Places to sit the mini figures. Blast helmet for Luke and place to store it. Cool computer station

Cons:

Flick missiles on bottom not needed
Landing gear does not retract
R2-D2 and C-3PO instead of Darth Vader

Editors Note:- To our great surprise, Ben had this set built in less than a day! - Notwithstanding Bens obvious love of Lego and building skills, for anyone to build it that quickly, we conclude that the instructions must be at least reasonable to understand!

It appears this set has very big thumbs up from Ben!

Below are some additional pictures of the build...